When not dancing, some of St Albans Morris may be found 'mummering'.
Chris Hillier, 3rd from left, as Father Christmas with the Croxley Mummers.
The custom of 'Mummering' or The Mummers' Play has a long tradition over several centuries and the story line can take many forms. The play itself is loosely based around the hero, St George.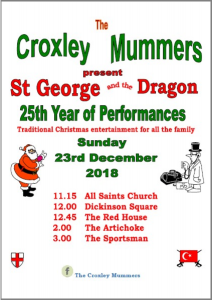 The play performed by the Croxley Mummers originated shortly after the First World War when Neggy Wilson, headmaster of Croxley Boys' School, decided to gather together a Mummers' Troupe in Croxley Green. He created a version of the play from accounts of those used around the country and this was the version performed until the mid-1950s.
In 1994, a group of friends meeting in a Croxley pub revived the play, with St Albans Morris' Nigel Moorcroft the original St George and our treasurer, Chris Hillier playing Father Christmas.
It soon became the tradition for this imaginative group to be asked to perform the play yearly on Christmas. The Croxley Mummers raise money for local charitable works, including the Watford Peace Hospice and to date, in this, the 25th year of the revival of the original play, they have raised over £7500.
This year, you can see the play performed around Croxley Green on 23rd December.